A YEAR AGO
Sunday, December 25, 2005
The last sunday of december would henceforth bring memories of the tidal wave that struck the south-asian coast last year.Even before it could be wiped off my mind,a year has gone by.Indonesia,Thailand,a small portion of Malaysia,Andaman & Nicobar,SriLanka,India and East Africa bore the brunt of the attack.Not a single coastal district in TN was spared.Tuticorin and Rameswaram however suffered little destruction because of that protective shield called SriLanka .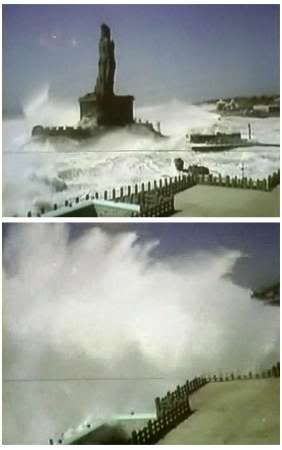 The wave at kanyakumari rock memorial.



I woke up quite "early" at 730 in the morning.Everything was normal for the next two hours when my sister told me that Madras experienced a tremor that morning.I could not believe it.I then switched to the news channels which by now were brimming with headlines that read "Sea water inundates parts of Chennai".Lok sabha winter session,L.K.Advani,Sankaracharya arrest episode, all went back stage as the focus began shifting towards Chennai.There was sea water inside the Police Commissioner's office and in Queen Marys college.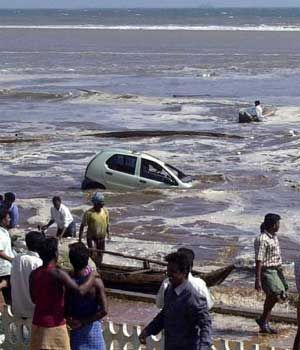 The world's second longest beach,now a lagoon.



By 11'o clock Indonesia,Cuddalore and Nagapattinam came into focus.An hour later,came Kanyakumari,and the damage,it seems,was so intense that it began to dominate news headlines.

It is at times of natural disasters like these when rumour-mongers have a field-day.Rumours like Tiruvanmiyur submerged,Sea water entered Ashok Leyland factory in Ennore,water reaches nagercoil etc began doing the rounds.As a true Indian,yours truly began his survey.At tiruvanmiyur water spills from a metro water tanker were mistaken for waves.At besant nagar traffic police were not allowing public to even catch a glimpse of Elliots.

A year later,the district collectors of cuddalore and nagapattinam are hailed for their prompt action in ensuring that the people of their districts stayed clear of such disasters.Vivek Oberoi adopts an affected village.Meanwhile the affected,who are yet to recover from the shock,foresee another tidal wave taking shape.Dismiss all such crap and come back again on my birthday.
Property of Sheks @ 1:31 pm


About Me
Name: Sheks
Home: Madras, TamilNadu, India
About Me:
Complete profile
Previous Posts
Archives
Powered by