THIS EMU CAN FLY
Thursday, December 15, 2005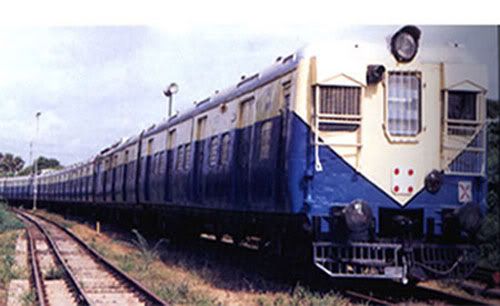 About 350kms from madras, lies a city that calls itself a
brand,worldclass,hitech,cosmopolitan and many other tags which the
people of that city have assigned to it.It has been vying with its
nearest major neighbour in all fields and has even emerged
triumphant in a few.However one area where it is no match for mds
is the public transport system of metro suburban trains.A metro train
project has been in the pipeline for more than a decade in the
branded-city but it is yet to see the light of the day and recently it
was seen floating in the sewer.

Metro trains have been running in mds since 1931,much after this
system was introduced in Bombay and after Raymonds and Nilgiris
came into being.Initially running on metre gauge tracks,conversion to
broad gauge was effected in 2003.The aesthetic design has also been
changed to move with the times.The interiors of these coaches are
furnished with steel and cushioned seating has been
incorporated.However since commuters who have been travelling for
more than a decade(when the branded city's metro rail appeared in
the pipeline)in these trains would be missing the brown coloured
coaches with yellow-painted interiors,the conventional model(second
pic)has been retained and it runs alongside the new model.

Much has been written about madras' buses but very few posts
actually describe the experience of an EMU(electrical multiple
unit)commuter.Bombay bloggers post a lot about their train-travel
experiences and this encouraged me to write about the metro train
system of the city I love very much.For the first time in the history of my
blog,I've used the FAQ format that is quite synonymous with Vinod
and Praveen.

Q--What's that brown thing over there with a 'M' in front of it?
A--That's the local train of this city.And M is short for Moore Market
complex that is better known as central.

Q--Where does this emu "fly"?
A--Flies in four sections namely beach to tambaram(and
beyond),central/beach to avadi(and beyond),central/beach to
gummidipoondi(and beyond) and beach to tiruvanmiyur.

Q--Bombay has names like Western,Central and harbour assigned to
its sections.Does mds have any such names?
A--Presently no.The section is identfied by the last station in it.

Q--Are these trains crowded like in bombay?
A--Yes but not for long.From 11pm to 4am these remain in the
shed.After these trains start their journey they are crowded for 6
hours in the morning,6 in the evening and 6,during the day after
which the crowd lessens.

Q--What do I do if these are crowded?
A--Catch the train in the starting station itself.

Q--Could you explain that?
A--If you want to go from Mambalam to Tambaram,first catch bus
route no. 10 or 11 and go to parrys.There,walk to Beach station and
board the first train to tambaram,that you see.That way you will be
saved the trouble of standing all through the journey.

Q--Is there any other option?
A--Well,you can sit on the roof or hang on the window.

Q--Isnt that dangerous?
A--yes it is.but you will get used to it like how bombaykars have.

Q--I dont have any previous experience,but.
A--No problem.It will come automatically to you after you watch
movies like Dharma,vallarasu,vaanchinaathan and gajendra.

Q--How do I get to the roof?
A--Jump from the road-overbridge.

Q--Won't I get hurt?
A--Not at all.There will be two other people to catch you for you to
land safely.

Q--But risk is risk.I prefer that small room at the end of the coach
which has only one passenger.I would anyway like to give him
company.
A--You moron,that's the driver's cabin.

Q--I heard that the new model got rejected in hyderabad.Why was it
so?
A--Because the people did not like the colour.They expected a pink
colour roof,green colour body and bright orange wheels.But what
they got was white roof,blue body and black wheels.They sent it back
to mds.

Q--What is that wooden thing above the windows?
A--That's the luggage rack that serves to keep trunk boxes,suitcases
and other heavy luggage like gundu kalyanam and usilaimani.

Q--Only luggage?
A--No.during peak hours when there is not an inch of space to even
stand,u can climb and sit on it.

Q--What are those things hanging from the top which those people
are holding?
A-- It's called support or clutch.You need to hold onto it to avoid
tripping.U can also hang your shoulder bag or tie your pet dog on
it.These clutches are not found in the new model and hence were
rejected in Hyderabad.

Q--But today's local newspaper said that the train stopped midway
when a person hanged his umbrella on it.
A--That was because it was not a clutch that he hung his umbrella
on,but the alarm chain.

Q--In overseas metro trains,the seats are designed in such a manner
that the passenger gets a feeling of the train moving sidewards.Can I
find that experience here?
A--Why not.Special coaches are designed for this purpose.You find
these special coaches right behind the "ladies" compartments.You will
have fruits,vegetables,peanuts and fish for company.These special
coaches have "VENDORS" written outside them on the body.

Q--Why are both buses and trains green in this city?
A--It is testimony to the fact that mds is a green city.During your
journey you are likely to come across people uttering "green" words.

Q--Lastly,do these trains ever run late?
A--Yes of course.Most of the time,these trains will be forced to wait
till the CM's or MLA's convoy passes,which subsequently causes
delays.

Thanks for the info.I'm off to watch the four movies you mentioned.

To sum up,these EMUs jointly with MTC form the life-line of mds.Not
many may agree with this fact.Only a frequent commuter can measure
the efficiency of these trains.According to me all the trains,barring
the gummidipoondi one,are really efficient in mds as they are,in
bombay.But there is light at the end of the tunnel since the g'poondi
line is being converted into a four-track line which will have
dedicated lines for express trains.And considering the pace at which
this is taking place,it is obvious that this line will be in place much
before bangalore becomes bengaluru,new delhi becomes nayi dilli
and hyderabad becomes hydera*****.
Who said mds is lagging behind the branded-city in terms of
development?In fact we are miles ahead when it comes to public
transport.Let's flaunt our electric trains while they search for their
metro in the sewer.
Property of Sheks @ 4:19 pm


About Me
Name: Sheks
Home: Madras, TamilNadu, India
About Me:
Complete profile
Previous Posts
Archives
Powered by