MADRA(IN)S
Friday, October 28, 2005

It has finally arrived.But in bulk resulting in a supply>demand situation.The 'it' in question here is the rain that lashed madras city today.That brought cheer first and tension next.That resulted in floods and subsequently a deja vu of bombay,jul 26.

What followed was the usual!Life thrown out of gear.Vehicle movement paralysed.Trees uprooted.Flights diverted.Trains not running.The above pic is tht of the Basin Bridge station.The Beach-Tambaram section however was in tiptop condition and emu services went on as usual(do i sound like a reporter?)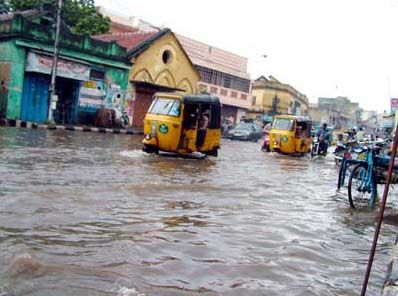 North chennai was the most affected part thanks to poor roads and lacklustre administration & public-govt. co-operation.The pic above is that of perambur barracks road,that connects vepery and pattaalam,at 8 in the morning.By 3pm there was face-deep water.This info comes from one of my classmates who stays there.He along with his kith and kin was forced to shift to the rail kalyana mandpam(that's how it is called)near ICF in ayanavaram.The vyasarpadi subway,which is so short that the top of a bus can actually brush the railway line,above,was closed to traffic forcing a 2km detour via madhavaram.


A somewhat contrasting situation in the southern part where I stay.Rainwater harvesting had been taken up in right earnest as a precautionary measure following the mumbai rains.But that did not prevent water from stagnating on the streets.The truth is that there are sufficient drains but their inlets have been blocked by polyethene covers forcing water to stay on the roads.


The news is that a cyclone will strike the coast tomorrow morning.This will be the first cyclone I'll be witnessing since 1996.But there's nothing to panic for the cyclone would travel slower than narain karthikeyan(60kmph only).


The news channels next!Transmission was cut off and only NDTV was available.The "mumbai-spirit" became evident when the newsreader guy kept reverting to political issues.(on jul 26,all channels were storming with news of mumbai rains,the whole day).As the same pictures kept coming,I tried switching to Headlines Today.As it was not a pretty female news-reader there,I switched to SUN news.Here the headlines on the screen appeared twice every minute.


Power supply was cut off in about 75% of the city.But I was one among the "privileged" few to have power supply on,the whole day.I did not like this.I'm not a guy who dwells in pleasure when others are in difficulty.As a mark of support,I did not switch on a single appliance the whole day and switched off the ON ones(except the refrigerator).


I havent had any experience so far as I didnt venture out the whole day.It's better not to as there's high risk of leptospirosis,a disease caused my mixing of rat-piss with rain water.But if you are of the i've-braved-the-may-heat-this-rain-is-nothing type,make sure u dont step into stagnant water.If there's no other option,then make sure u wash ur legs thoroughly with soap and water(if available,dettol)after u get home.


Overall I enjoyed this rain as this postponed the preliminary test(for which I hadnt prepared)by a week.Also this justified my assumption of chennai=mumbai.Other perspectives:

*Die hard chennai fan--He/she wanted respite from the heat.Even a mild shower or a dip in mercury would be considered a relief by him/her

*Other state guy--statistics indicate that most aliens in chennai are bangalore-based.They curse the city for its hot weather and when it rains,they call it "So what?It rains better in bangalore."

*Auto driver--Collection time.Chance to demand extra fare as there's a wonderful excuse happening out there.

*Bus driver--Saved the trouble of wiping the bus-body.

*Metro water--Plentiful---when redhills,chembarambakkam and poondi overflow
Not enough---when these waterbodies get filled with only puddles of water
(mild drizzle and dip in mercury are not accepted)

*Meteorological dept--The forecast has come true,at last.

It's 1am now.The cyclone will be here any time from now.Off to the beach?Call me.I'll give u company.

Update 1:Chennai's back in action today.Water has either evaporated or percolated.The roads are completely dry.But this is the situation in south chennai only(from lighthouse to tiruvanmiyur).Those in the north havent been able to recover.Another classmate of mine,who stays on the ennore expressway had to put up with the waves too.A fact about this road:The sea is very close to this road.Only a small stretch of sand is present and as a result waves often come out onto the roads too.The latest news is that the army has pitched in to help in relief efforts in perambur.For pictures,get the latest copy of tamizh murasu or dina malar.Long live Chennai!

The cyclone bypassed chennai into andhra.There was only one cyclone in chennai and that was me.

Update 2:Come the rains and I experience something or the other that is detrimental to my health.The usual one is getting wet.The rains seems to strike the city only at a time when I'm out with my vehicle.This time I got wounded.It happened like this:after returning from my so-called survey of the city,I was heading towards tiruvanmiyur from besantnagar through a narrow road that forms 0.0000001% of mount road.I wasnt wearing my driving glasses because of which a speck of dirt fell on my eye,almost blinding me.In an attempt to remove it off my eye,I didnt notice a car heading towards me.The moment I opened my eyes,I was just in front of the car.The brakes failed and I tried to swerve following which my right hand got dragged on the car's doors.The car stopped at once and I stopped a few yards behind him,well out of sight.I was shocked to find a white layer oozing out of my skin.Fearing that it was a fracture,I headed to RM Hospital.Fortunately,it was not a fracture or dislocation,the doctor said much to my relief.I returned home via indira nagar which i reached via curses' house.I can write and eat but it pains when I lift my forearm.

Spotted :Breaking News in Headlines today on 25 oct--

gowda not to attend bangaloreIT.in.

How does this come under breaking news?a news is termed breaking news if it is reported first,well before other newschannels do.But gowda was there.Inaugurated the event.Spoke ill about narayanamurthy.
Property of Sheks @ 1:03 am


About Me
Name: Sheks
Home: Madras, TamilNadu, India
About Me:
Complete profile
Previous Posts
Archives
Powered by