It was totally unprecedented.It was heavier than the heaviest.Never has such a place witnessed such a situation.The rains in Mumbai and the subsequent floods that left people like Sharukh Khan,Aamir khan,Amitabh bachchan,Madhuri dixit,Mallika sherawat etc in a predicament,is what this blog is about.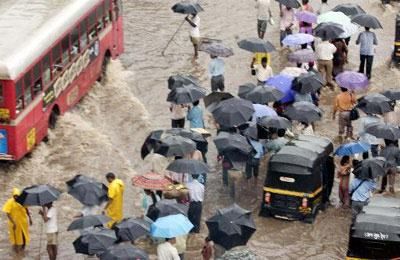 940mm.This surpassed the heaviest so far,832mm,recorded in Cherapunji about 105 years ago.The entire city,which was a Shanghai-in-the-making came to a standstill leaving everyone.Everyone from immaculately dressed office-goers to the slum-dwellers lost most of their property.Even the rich had their own share of suffering.Aamir khan was caught in traffic for more than 6 hours.A few of Amitabh's wall paintings were gone.Water entered the ground floor of Bal Thackeray's house and he had to come out in a specially made boat.The two persons who were completely unaffected by the rains were probably Mallika sherawat and Neha dhupia.What happened to Tendulkar is not known till now.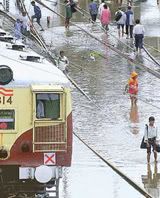 Chennaiites were left with no other choice other than gasp at the sight of too much water.It's raining rhinos and dinos there while there's not a single drop in chennai.It would be better of Mani shankar aiyar sanctions a water pipeline from mumbai to chennai.The oil pipeline is still under debate so this would be a better choice.
My cousin was one among the many to bear the brunt of the rain.He caught a taxi at 5pm at Nariman point to get to his place at Powai.He reached Bandra at 11 in the night.The taxi was stuck at Bandra and so he had to wade through the water to reach home.He did just that and finally reached home at 4 in the morning,in the process spoiling his Sony Ericsson p780i phone.
The rains further triggered a series of floods none of which came to chennai.The mumbai rain forced the opening of Koyna dam near pune.But the dam was already overflowing and this caused minor floods in pune.Dams in Satara district near Karnataka border were also opened.This in turn flooded the districts of Belgaum,Bijapur and Gulbarga.Karnataka's receiving its own share of rains.The gates of the Krishnaraja sagar and Kabini dams,which were kept closed for almost a century,were opened simultaneously.This caused fear of deluge in the districts of Krishnagiri,Salem,Erode and Trichy.The cauvery did overflow its banks without causing much damage.The excess water from cauvery caused a rise in the water levels in the Vaigai and Tamaraparani rivers in madurai and tirunelveli districts respectively.


It's water, water everywhere but not a single drop in Chennai.