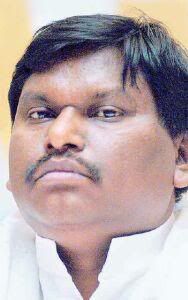 Who is this?
The Nagercoil annaachi who sells kanyakumari bananas?
The Tirunelveli annaachi(different from the first)who sells halwa in iruttu kadai?
The Srivilliputhur nadar(again,a distinct category) who sells paal khoa?
The Pazhani thevar who runs a Pancha-amritham business in pazhani?
The Dindigul chettiar who owns betel-nut farms?
Any guesses where he is from?Madurai or Trichy or Vizhupuram or Tindivanam or Chengalpet or Tambaram?
Nowhere from the south.He's Jharkhand chief minister,ARJUN MUNDA.This was the first time I was actually seeing his photo.If A.r.Rahman were as confused as I was,how would he express it-
Kaun hai,yeh arjunaa...(adapted from a song in the hindi version of Mr.Romeo)
----------------------------------------------------------------------------------------------------------------
I've found out the main reason why buses in chennai are in such a pathetic state.The driver is the grassroot cause of the damage.While changing gears,they never use the clutch.The reason why a clutch has to be used first before changing gears is that the clutch assists easy movement of one gear to mate with the idle gear.Failure to apply the clutch results in jerky movement of the gear.Repeated disuse of the clutch damages the gearbox,then the shaft and then the entire engine.I found this today while travelling to college in a dilapidated 23C which was worth a ton of lion dates.
The latest addition to MTC is the inter-cooler coupled turbo engine buses that conform to BS 2 standards.The sound of their engines is slightly different from the rest of the buses.These buses are equipped with finger touch clutches and an engine-cooling mechanism that activates itself when the temperature of the engine rises above a threshold limit.Unfortunately some of these buses are also on the verge of becoming thakara dabbas since the driver does not care if it is a new bus or an old one.If things go at this rate,chennai would soon witness booming perichampazham business.