ON THE WANE.
Tuesday, August 30, 2005
"Get more than an engineering degree."
So reads the catch phrase in NIIT ads.Engineering degree has become a bauble not only in this ad but also in every other NIIT ad.This may be one of the many reasons why engineering has lost its value as quoted by two 60 yr olds in besant nagar,which I happened to overhear.

Can't these people resort to some other form of marketing?Y should engg be degraded in their ads?What do these people know about engg. that they make tall claims that it wont do u any good? Now their stupid ads have started appearing in TV too.A guy dressed in t.shirt and jeans comes out of NIIT after enquiring about GNIIT.Three people supposedly from some IT firm(but look like doddabetta gaja and vyasarpadi jiva)wait outside frowning at each other.As soon as the guy comes out,one of them catches him in a kozhi-amukkufying style and drive him off.Another of those senseless ads.

It is considered a crime in this part of the country if you are not an engg student.And if u land in any branch other than electronics,comp sci,electrical and infotech,ur future is blank.These are simply fads that have sprung up in recent times.The biggest problem is that students fresh out of school give in to these falsely true and fictionally factual ideas.

Engineering is losing its value now.Dedication to the field has become a thing of the past.The focus is now on simply securing a job and not on serving the society as is the usual case.No matter how much technology develops,only if people are ready to soil their hands,can the so-called developed technology be made accessible to everyone.This is the main reason why computers are still a mystery to villagers,particularly to lalu's supporters.

"Soiling the hands" would involve working with dirt,grease,dust,oil and stains.Indian students of today dont like to do such tasks and this explains why the evergreen mechanical engineering field is diminishing in popularity.

It should be proved to NIIT that an engg degree is, by no means,lesser in value than the damned software courses it offers and the damned catchphrases it uses to woo students.Let's lift the spirit of engg.(curses,murali and praveen,do u agree?)

I felt like writing this when i spotted an NIIT bill sticker pasted below the adyar flyover to naaradichufy its architectural beauty.Now to ease myself,I'm listening to "Ghajini"
Oru maalai ila veyil neram.......
Property of Sheks @ 10:58 pm


KAUN HAI YEH ARJUNAA?
Saturday, August 27, 2005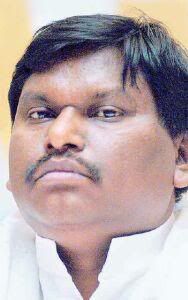 Who is this?
The Nagercoil annaachi who sells kanyakumari bananas?
The Tirunelveli annaachi(different from the first)who sells halwa in iruttu kadai?
The Srivilliputhur nadar(again,a distinct category) who sells paal khoa?
The Pazhani thevar who runs a Pancha-amritham business in pazhani?
The Dindigul chettiar who owns betel-nut farms?
Any guesses where he is from?Madurai or Trichy or Vizhupuram or Tindivanam or Chengalpet or Tambaram?
Nowhere from the south.He's Jharkhand chief minister,ARJUN MUNDA.This was the first time I was actually seeing his photo.If A.r.Rahman were as confused as I was,how would he express it-
Kaun hai,yeh arjunaa...(adapted from a song in the hindi version of Mr.Romeo)
----------------------------------------------------------------------------------------------------------------
I've found out the main reason why buses in chennai are in such a pathetic state.The driver is the grassroot cause of the damage.While changing gears,they never use the clutch.The reason why a clutch has to be used first before changing gears is that the clutch assists easy movement of one gear to mate with the idle gear.Failure to apply the clutch results in jerky movement of the gear.Repeated disuse of the clutch damages the gearbox,then the shaft and then the entire engine.I found this today while travelling to college in a dilapidated 23C which was worth a ton of lion dates.
The latest addition to MTC is the inter-cooler coupled turbo engine buses that conform to BS 2 standards.The sound of their engines is slightly different from the rest of the buses.These buses are equipped with finger touch clutches and an engine-cooling mechanism that activates itself when the temperature of the engine rises above a threshold limit.Unfortunately some of these buses are also on the verge of becoming thakara dabbas since the driver does not care if it is a new bus or an old one.If things go at this rate,chennai would soon witness booming perichampazham business.


Property of Sheks @ 11:49 pm


RANDOM
Friday, August 26, 2005
Music thalaivar is coming back with ulaganayagan."Dasavatharam" will have Kamal in 10 different roles.Music by A.R.Rahman,dialogue by Crazy mohan and direction by K.S.Ravikumar.Thenali combination at it again.
------------------------------------------------------------------------------------
Music thalaivar will be returning with thoothukudi thalaivar,also, in "Godfather".
------------------------------------------------------------------------------------
Sudhish Kamath's fortnightly take on Shonali Muthalaly in "Battle of the Sexes" in Metro Plus made interesting reading.While the former wrote about things like this,the latter had her own views about the male.Here is my view:

**Share the bill amount during dates.If the girl insists you pay up everytime,it is a likely fact that she is a miser.She may be the only heir to her dad's property.This means her hubby would get an equal share of the sothu.Why should she part with her appan veetu sothu?In order not to be confronted by a situation like that,she makes her beau spend all his money;exam fees,mobile recharge amount,bike fuel cost,bike servicing cost,teakada baaki,house rent,etc;on her.

**Sushish asks "Why should a girl expect to be wooed?"Blame the male community for this.Had we not gaped at women when they switched to western culture,T.Rajendhar style poems would have been literally absent now.It's the masculine attire that draws onlookers.We males should have started wearing chudidhars when they borrowed t.shirts and pants from us.
Ippo kooda onnum kettu polae.J.J maddy mathiri inimae ella vaalai-pala-thol-valikki-vaalibar uyir-ooshal type ponnungalayum oru kevalamaa look viduvom.Athukku appuramaavathu indha wooing stop aagumanu paakkalaam.
-------------------------------------------------------------------------------------------------------
My take:Do something with their slippers.They threaten to use them on guys for anything and everything.The high-heels type is designed specially for this purpose.Try this:
Walk upto her and say "Unga seruppu romba azhaga irukku".
She would say:"kazhattinaa teriyum."
Hit back with this "T.shirt kooda thaan azhaga irukku." ###
-------------------------------------------------------------------------------------------------------
The proposal for an industrial visit has been approved by my dept and off I'll be going to Cochin,munaar,aleppuzha,guruvayur and coimbatore.Staring on sept 7 and returning on 11th.
-------------------------------------------------------------------------------------------------------
My college campus seemed rather deserted today since the majors--MECH,CSE,IT and ECE depts left for their respective tours.Went to see off the so-called machos of mech,yesterday.I cursed myself for travelling by bus and then by electric train,for I reached the station just in time to see the bluemountain express pulling out of the station.Walked back to saravana bhavan for dinner.Ordered for a chappati.Realised the miserliness of the hotel when the chappati arrived.It was smaller than Lalu's brain.A flat 20 bucks robbed.
Was about to step out of the station when a few familiar faces caught my attention.It was the CSE guys,who were walking towards the mysore-kaveri express.Had a few words with some of them.
-----------------------------------------------------------------------------------------------------
World Bank has granted 13 crores to improve infrastructure in the college.The students are obviously happy for they no longer have to put up with 250 year old machines,347 year old motors and generators and dingy classrooms.
------------------------------------------------------------------------------------------------------
Curses in his latest post,wrote abt the condition of chennai's buses.The reason may be because Lalu's cows graze on them.


###--Girls,that statement is not meant to hurt you.It was just my feedback on that article.If u still feel like removing ur footwear,please wait.Unplugged-nu oru nalla payyan irukkan.Avanayum kootikittu varaen,sethu vechu adeenga.
Property of Sheks @ 12:08 am


A SEISMIC EXPERIENCE
Friday, August 19, 2005
When Murali invited me to his college for his CSEISMIC,I was doubtful whether I could make it.But curses' fabulous site design for the event changed my mind and I decided to go not wanting to lose this opportunity which was making its third appearance in my under-grad career.

After the avani avittam, I set off for KCG college with another guy.I intended to bunk Quality Control class,in the process losing two attendance hours.I was amazed at the sight of the college,particularly its location by the side of a lake where only buffalos bathe.A cool breeze keeps blowing lending some respite from the heat.On my way to the main building from the parking lot,I admired the infrastructure of the campus(this was the first time I was coming to a private college).

Once inside the main building,I began to wonder if it was really a college for the place resembled a picnic spot.Four boys and a girl on a sofa.Boy's hand on girl's shoulder.Way to go,I mumbled to myself as I headed to the registration desk which was flanked by a couple of girls who I recognised to be my juniors in school.The event co-ordinator who sported a not-so-accurate Priyasaki hairstyle,told me to go to the inauguration while our names were being registered.

The inauguration was the usual one commencing with an invocation song by two saree-clad girls who were part of the sapthaswarangal KCG team.I had just enough time to admire them that the song went unheard.One of the girls in the audience spotted me and signalled a "hi" which I reciprocated.While the principal of the college spoke,someone called out my name.It turned out to be abilash,one of my best friends in school.He left for the quiz when the chief guest was about to speak and I followed suit.

At the quiz room,curses was displaying his kadamai unarchi with barath assisting him.As usual the questions turned out to be cryptic for an average level quizzer like me.some questions pertained to very recent happenings while others were simply hard to crack.For a guy like Vinod,it'd have been a cakewalk.Time was running out so my partner suggested that we scribble random answers.We did so in the process of which we answered a Harry potter question on some kind of a potion as "Ashtavaniyambadi choorana thailam".

Next I completed the debugging contest which actually turned out to be a bugging one.There were typographical and syntax errors and the contest was just like an entrance exam.My partner anandh took part in the gaming contest too which I missed because of an improper queueing model.In the meantime I caught up with most of my schoolmates,kannan,susi,murali,kabali,barath,abilash,hemant and a few girls.

The lunch break was scheduled for 1230.But it arrived an hour late like the Dadar-Chennai express.The lunch was to be served near an open courtyard.We spent the one hour bird-watching.I found the reason why birds migrate to vedanthangal only after october.b'cos for the rest of the year they're here.Birds of all shapes,sizes and attires were present.Most of them seemed to be sisters of fashion models falling into the category of vaalai-pala-thol-valikki-vaalibar-uyir-ooshal.The others looked simple but looked gutsy like "morathaala puliya adicha ponnunga".

The courtyard was the ideal picnic spot.The sisters of fashion models were posing for photos and were being photographed by brothers of P.C.Sreeram.At one corner,near a stairway,was a couple with the girl lying on the guy's lap.A rakhi-tying session was going on near the reception with a girl poonakutti tying a rakhi on her classmate pulikutti's wrist thus laying the foundation for a blood relationship.Curses was still displaying his kadamai unarchi on the second floor,salvaging his "nalla-paiyan" image.One peculiar figure I spotted in the courtyard was a guy who was bathed in maida maavu.I learnt from murali that he was a 3rd yr guy named sharath.

At around 130 I left for college for the "value-addition" class.On reaching anna university,I felt like going back to kcg for the rest of the day.I'd had enough of the 200 year old red building and my department which resembles a dungeon.On the contrary the serene location of kcg and its vedanthangal atmosphere had got the better of me.Who next--SSN,Hindustan,st.josephs,VIT.....?
Property of Sheks @ 11:10 pm


A TEST OF........
Friday, August 12, 2005
3237.Read the figures in my latest telephone bill.This was the highest amount recorded in two years.The rate at which this figure was reached was higher than the Bombay sensex.Dial-up constituted 80% of this amount.So I decided to cut down internet usage which is why I havent been posting for the past one week.
It's not only the high call rates that made me abstain from using the net.The assessments in college contributed equally.
It is the unit tests which are popularly referred to as assessments in CEG.The tests go on for two weeks during which tests for all the 7 theory papers are conducted.The question papers amount to various marks starting from 20 and extending to 50.I faced one paper in my 3rd sem which was worth 24.77 marks out of which i scored 21.36.These marks determine the grade points.
The one thing that these tests actually assess is your story writing skill.Only one chapter forms the portions.But this one chapter has a number of sub-chapters which are discrete chapters in the textbook.The long answer question always turns out to be one from the chapter which you havent bothered to touch.And that turns out to be the mandatory question,too according to Murphy's law.You are left with no other choice except to display your story writing skills.
The assessments in my college are held in one of the four drawing halls in that 200-year old red building.200 yr old fans,heritage old tables,drawing boards bought in 1899,bits and pieces of the ceiling falling down,all contribute ergonomically to your story writing skills.
There are some who borrow too many additional answer books that you could bind them into a 5-subject notebook.There's one such case in my class.I got a chance to see what she writes in her paper,when she was absent,the other day.I found that there was absolutely nothing in her paper.She writes only 5 lines per page when college standards specify u to write 15-20.The gap between two lines is so broad that u can lay a broad gauge line there.The margin--almost at the centre of the page that the top portion of the sheet resembles the soon-to-be IT expressway.Added to this is the "jigina" work of underlining,blockquoting etc.That girl is from DAV.
Ever since 2nd sem,when I was caught for no fault of mine,I've stopped believing in strategies.Instead I reel off stories to such an extent that Mani ratnam can make a film out of it.Some of the stories I'd have weaved so far:
*2nd sem electrical engg:--Explain 3-phase.
Half of arumugam,one-third of ravana.
*electronic engg:-describe ramp signal.
One used in fashion shows to send the model,back.
*which is the most effective type of transistor and why?
the one which receives all radio stations,which doesnt need a battery replacement.
*3rd sem thermodynamics--Explain the various accessories used in a boiler.
Lid,tap,milk,kettle and fire.
*A car's engine cannot be used for a two-wheeler.Why?
Cos a TW can't hold such a bulky item.(the actual answer had something to do with efficiencies)
*Solid mechanics lab viva--How do u measure the hardness of a tennis ball?
Keep playing with it.If it breaks early,it's not too hard.If it lasts long,it's very hard.
*4th sem fluid mechanics--differentiate between pumps and turbines.
Pumps--found in villages,has a long handle.
Turbines--found in powerplants,may or may not have a handle.
As for the current sem,I havent yet plunged into story writing.

Property of Sheks @ 3:43 pm


WATER WATER EVERYWHERE
Thursday, August 04, 2005
It was totally unprecedented.It was heavier than the heaviest.Never has such a place witnessed such a situation.The rains in Mumbai and the subsequent floods that left people like Sharukh Khan,Aamir khan,Amitabh bachchan,Madhuri dixit,Mallika sherawat etc in a predicament,is what this blog is about.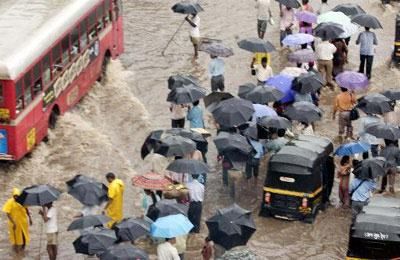 940mm.This surpassed the heaviest so far,832mm,recorded in Cherapunji about 105 years ago.The entire city,which was a Shanghai-in-the-making came to a standstill leaving everyone.Everyone from immaculately dressed office-goers to the slum-dwellers lost most of their property.Even the rich had their own share of suffering.Aamir khan was caught in traffic for more than 6 hours.A few of Amitabh's wall paintings were gone.Water entered the ground floor of Bal Thackeray's house and he had to come out in a specially made boat.The two persons who were completely unaffected by the rains were probably Mallika sherawat and Neha dhupia.What happened to Tendulkar is not known till now.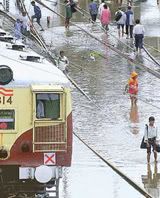 Chennaiites were left with no other choice other than gasp at the sight of too much water.It's raining rhinos and dinos there while there's not a single drop in chennai.It would be better of Mani shankar aiyar sanctions a water pipeline from mumbai to chennai.The oil pipeline is still under debate so this would be a better choice.
My cousin was one among the many to bear the brunt of the rain.He caught a taxi at 5pm at Nariman point to get to his place at Powai.He reached Bandra at 11 in the night.The taxi was stuck at Bandra and so he had to wade through the water to reach home.He did just that and finally reached home at 4 in the morning,in the process spoiling his Sony Ericsson p780i phone.
The rains further triggered a series of floods none of which came to chennai.The mumbai rain forced the opening of Koyna dam near pune.But the dam was already overflowing and this caused minor floods in pune.Dams in Satara district near Karnataka border were also opened.This in turn flooded the districts of Belgaum,Bijapur and Gulbarga.Karnataka's receiving its own share of rains.The gates of the Krishnaraja sagar and Kabini dams,which were kept closed for almost a century,were opened simultaneously.This caused fear of deluge in the districts of Krishnagiri,Salem,Erode and Trichy.The cauvery did overflow its banks without causing much damage.The excess water from cauvery caused a rise in the water levels in the Vaigai and Tamaraparani rivers in madurai and tirunelveli districts respectively.


It's water, water everywhere but not a single drop in Chennai.




Property of Sheks @ 4:08 pm


About Me
Name: Sheks
Home: Madras, TamilNadu, India
About Me:
Complete profile
Previous Posts
Archives
Powered by