MADRA(IN)S
Friday, October 28, 2005

It has finally arrived.But in bulk resulting in a supply>demand situation.The 'it' in question here is the rain that lashed madras city today.That brought cheer first and tension next.That resulted in floods and subsequently a deja vu of bombay,jul 26.

What followed was the usual!Life thrown out of gear.Vehicle movement paralysed.Trees uprooted.Flights diverted.Trains not running.The above pic is tht of the Basin Bridge station.The Beach-Tambaram section however was in tiptop condition and emu services went on as usual(do i sound like a reporter?)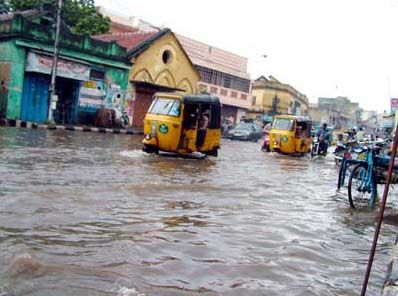 North chennai was the most affected part thanks to poor roads and lacklustre administration & public-govt. co-operation.The pic above is that of perambur barracks road,that connects vepery and pattaalam,at 8 in the morning.By 3pm there was face-deep water.This info comes from one of my classmates who stays there.He along with his kith and kin was forced to shift to the rail kalyana mandpam(that's how it is called)near ICF in ayanavaram.The vyasarpadi subway,which is so short that the top of a bus can actually brush the railway line,above,was closed to traffic forcing a 2km detour via madhavaram.


A somewhat contrasting situation in the southern part where I stay.Rainwater harvesting had been taken up in right earnest as a precautionary measure following the mumbai rains.But that did not prevent water from stagnating on the streets.The truth is that there are sufficient drains but their inlets have been blocked by polyethene covers forcing water to stay on the roads.


The news is that a cyclone will strike the coast tomorrow morning.This will be the first cyclone I'll be witnessing since 1996.But there's nothing to panic for the cyclone would travel slower than narain karthikeyan(60kmph only).


The news channels next!Transmission was cut off and only NDTV was available.The "mumbai-spirit" became evident when the newsreader guy kept reverting to political issues.(on jul 26,all channels were storming with news of mumbai rains,the whole day).As the same pictures kept coming,I tried switching to Headlines Today.As it was not a pretty female news-reader there,I switched to SUN news.Here the headlines on the screen appeared twice every minute.


Power supply was cut off in about 75% of the city.But I was one among the "privileged" few to have power supply on,the whole day.I did not like this.I'm not a guy who dwells in pleasure when others are in difficulty.As a mark of support,I did not switch on a single appliance the whole day and switched off the ON ones(except the refrigerator).


I havent had any experience so far as I didnt venture out the whole day.It's better not to as there's high risk of leptospirosis,a disease caused my mixing of rat-piss with rain water.But if you are of the i've-braved-the-may-heat-this-rain-is-nothing type,make sure u dont step into stagnant water.If there's no other option,then make sure u wash ur legs thoroughly with soap and water(if available,dettol)after u get home.


Overall I enjoyed this rain as this postponed the preliminary test(for which I hadnt prepared)by a week.Also this justified my assumption of chennai=mumbai.Other perspectives:

*Die hard chennai fan--He/she wanted respite from the heat.Even a mild shower or a dip in mercury would be considered a relief by him/her

*Other state guy--statistics indicate that most aliens in chennai are bangalore-based.They curse the city for its hot weather and when it rains,they call it "So what?It rains better in bangalore."

*Auto driver--Collection time.Chance to demand extra fare as there's a wonderful excuse happening out there.

*Bus driver--Saved the trouble of wiping the bus-body.

*Metro water--Plentiful---when redhills,chembarambakkam and poondi overflow
Not enough---when these waterbodies get filled with only puddles of water
(mild drizzle and dip in mercury are not accepted)

*Meteorological dept--The forecast has come true,at last.

It's 1am now.The cyclone will be here any time from now.Off to the beach?Call me.I'll give u company.

Update 1:Chennai's back in action today.Water has either evaporated or percolated.The roads are completely dry.But this is the situation in south chennai only(from lighthouse to tiruvanmiyur).Those in the north havent been able to recover.Another classmate of mine,who stays on the ennore expressway had to put up with the waves too.A fact about this road:The sea is very close to this road.Only a small stretch of sand is present and as a result waves often come out onto the roads too.The latest news is that the army has pitched in to help in relief efforts in perambur.For pictures,get the latest copy of tamizh murasu or dina malar.Long live Chennai!

The cyclone bypassed chennai into andhra.There was only one cyclone in chennai and that was me.

Update 2:Come the rains and I experience something or the other that is detrimental to my health.The usual one is getting wet.The rains seems to strike the city only at a time when I'm out with my vehicle.This time I got wounded.It happened like this:after returning from my so-called survey of the city,I was heading towards tiruvanmiyur from besantnagar through a narrow road that forms 0.0000001% of mount road.I wasnt wearing my driving glasses because of which a speck of dirt fell on my eye,almost blinding me.In an attempt to remove it off my eye,I didnt notice a car heading towards me.The moment I opened my eyes,I was just in front of the car.The brakes failed and I tried to swerve following which my right hand got dragged on the car's doors.The car stopped at once and I stopped a few yards behind him,well out of sight.I was shocked to find a white layer oozing out of my skin.Fearing that it was a fracture,I headed to RM Hospital.Fortunately,it was not a fracture or dislocation,the doctor said much to my relief.I returned home via indira nagar which i reached via curses' house.I can write and eat but it pains when I lift my forearm.

Spotted :Breaking News in Headlines today on 25 oct--

gowda not to attend bangaloreIT.in.

How does this come under breaking news?a news is termed breaking news if it is reported first,well before other newschannels do.But gowda was there.Inaugurated the event.Spoke ill about narayanamurthy.
Property of Sheks @ 1:03 am


ONE NIGHT
Tuesday, October 25, 2005
Never,in the past four years, have I completed a book in less than a week.This one was better.I completed it overnight.The book has such content that will keep you glued to it.The book in question here is "One night at the call centre" by Chetan Bhagat.It is his second book after "Five Point Someone".

The moment I read the review in the latest issue of India Today,I headed straight to Spencer Plaza Landmark.Why Landmark when there's odyssey close by?It's for a different reason that I went to SP.The book was right there in the front,near the cash counter,copies of which were stacked in some shape.Picked up one,paid for it and left the store soon as I was late for my "appointment".

"One night..." is the story of six call centre employees.The story is about what happens in a night in a call centre.The print bears an exact semblance to "Five Point Someone".

I'm not going utter the complete story and spoil the mood of reading it even before you buy it.Go check it out yourself.It costs only 95 bucks for 290 pages,which may not be too expensive,I believe.I just can't imagine I completed it in one night.Happy reading!(and do tell me if u liked it)
********************************************

The people of dharmapuri,salem,erode,karur,trichy,thanjavur and nagapattinam districts---poor chaps,they are.These places dont form the road route for buses from bangalore to nagapattinam.These are the towns along which the Cauvery river flows.For the past ten years the people of these districts have been pleading to Karnataka for Cauvery water.Their demands were supported by the local film stars too.The one night's rain of 23rd oct. was enough to bring surplus water accompanied by not joy,but agony.Most of the small towns along these districts have been inundated and worse things are expected for the next one week.Whether it is water in the river or no water,it's always agony for them.
Property of Sheks @ 3:48 pm


A DIFFERENT BABA
Thursday, October 20, 2005
Ever seen the guy in the pic?
"He holds three jobs.He manages the shares of over 50 firms.He earns about $500 per day.Above all he's an alumnus of our college.He's Ranjit Baba.Come, witness his Power Talk"
--read the lines,by the side of a photo of a muttiah muralitharan-lookalike, on an A3 sheet stuck on the notice board of my dept.Another guest lecture,I mumbled to myself as I walked to the auditorium.Guest lectures in CEG are mostly monotonous.Every time it's the same stuff happening.A gal clad in a saravana stores- saree announcing the chief guest's arrival half an hour after he arrives,praising his speech even if it is full of bland talk.This time it was during the occassion of the inauguration of the Society of Mechanical Engineers.But it was different for it was a hot mech girl compering the show.
A tall well-built guy went on stage.One sight of him and soon Blaazee's words began ringing in my ears:
"B to the A to the B to the A,
Baba,
A machoman,do u understand?"
His speech was primarily about "Making money".He started by displaying a 100-rupee note and announcing,"Whoever wants this came come and get it from me."None in the crowd responded.The note was still in his hands."Come on",he said.It was the mech hottie who took the initiative and got the note from him.He then praised the girl's money-making sense and added,"The rest of you are not good intitiators.U cannot make money."This brought a sense of humiliation to us.But he was kind enough to offer a second chance."I still have some currency notes with me.come and get them from me."This time I was quick to respond.I was the third on stage only to receive a 10-rupee note.This time he said "These people take initiatives by motivation.But the rest of you,you only like to sit and watch."
What followed then was a 30-minute long lecture about how to make money.An excerpt from his speech:
"The future of this century depends on successful entrepreneurship.We need more entrepreneurs.You must be in a position to pay others.Not get paid by someone.I can see 1500-odd people in this audi.I wish that all 1500 of you start your own businesses.That way you can make money.
"Give up the usual trend of +2-degree-job or +2-degree-PG-job.Instead complete your degree and start your own business.If u fail in ur business keep trying.Never get distracted by what others say.
"How many of you are seriously thinking of entrepreneurship?"Some 100-odd hands went up.He selected one from the crowd and asked her if she really meant it.A half-hearted response from the girl,"Umm...errr ...yes.""That was not a convincing answer."He said.He asked her the same question to which she answered "Umm...yes...err....no".She got pissed off and a guy was chosen next.He displayed a bout of body-language and said "I'm serious.""In that case I would like you to stand on this chair and announce to the entire auditorium what u said now",said RB.The guy responded."I want you to announce it forcefully by beating your chest.come on",said RB again.The poor guy had to do that following which he developed a sore throat from which he hasnt recovered yet.
A first year guy was too desperate to get the mike to say something.he finally grabbed it and announced his idea of inventing the metro-flight by the time he completed his degree.RB,again,wanted a whole-hearted answer.The guy this time was forced to do the chest-beating act on stage.
RB then quoted examples of drop-outs who had made it big.He said that one easy way to make money is to develop contacts with influential people.He then left the stage wishing us luck.

This RB did his B.E mechanical engg from AU and M.E in NUS.While he was in singapore,he somehow got in touch with several influential business people.How he came to know them is not known.
I may or may not become an entrepreneur in future but his words-of-power still linger."Never get distracted by what others say.Keep going ur own way."
That 10-rupee note now resides in the middle page of the thickest book in my rack,a dictionary.I am going now,to make money.Meanwhile check out
http://www.rapidachievers.com"
Property of Sheks @ 10:47 pm


RAINY SEASON MOKKAIS
Thursday, October 13, 2005
Because of the sudden spurt in the number of celebrities foraying into politics in tamilnadu,a new selection-method was devised.There were about 50 contenders.Each one wore a cap with a number written on it.Lots were drawn.The word "cap" was written, with a number next to it.A senior politician was called to pick one lot.Any guesses as to which one emerged?

Cap 10.
***********************************
Heard of this director called Perarasu who was working with TamilNadu Tourism before turning director.

American steel firms have surveyed the town of tirupaachi.An aruvaal manufacturing company is on the cards and the project is expected to take off soon.

Sivakasi will soon get official license to manufacture bombs.All these days it was vennira aadai murthy who was producing "bomb after bomb after bomb".

The crowd to Tirupati increased fivefold last week because of the utsavam.A darshan to see govinda took 2 days.Now after ultimate star's "Tirupati" the crowd is expected to increase drastically that devotees would be forced to wait for a fortnight before they could get a glimpse of govinda.As a preparatory measure,TTD is planning to set up another devasthanam in little mount in chennai.
***********************************
Numerologists have devised a technique to induce felxibility in Saurav Ganguly so that he would perform better.His surname would remain the same while his first name would change depending on the number of runs he scores.Henceforth he would be called "shoonya-rav","ek-rav", dus-rav,chabbees-rav etc depending on how much he scores in each match.He'll no longer be sau-rav.
Property of Sheks @ 11:07 pm


C vs M & B
Saturday, October 08, 2005
4 reasons why I feel chennai is better than mumbai or bangalore

1.Mumbai does not have long beaches.Bangalore has no beaches.
2.Mumbai's electric trains are crowded 24 * 7(here it's only during peak hours).Bangalore has no electric trains.
3.Roads in mumbai and bangalore are,most of the time, jammed(here it keeps moving,doesnt accumulate).
4.While M and B are receiving lacklustre attention from their own governments,here it is not so.The 14 union ministers and the state CM care enough for chennai and tamilnadu.

If any improvement ought to be brought to M and B,it should be done keeping only the two in mind and not Shanghai or singapore.Let mumbai be mumbai and bangalore be bangalore.
*****************************************************
One very orthodox classmate of mine commented about the pathetic state of bangalore.This was what he said:"As long as they deny us kaveri water,they'll continue to suffer.They deserve this and even more."
*****************************************************
The prefix "che" is used to denote red in words.It's burning hot in chennai even now.It's red hot now and probably that's Y places around chennai r named with a "che" prefix--CHEnnai,CHEngalpattu,CHEngundram(red hills),CHEmbarambakkam,CHEmbiam,CHEvvapettai and CHEtpet.
Property of Sheks @ 11:24 pm


ONE FRONTIER FALLS!
Saturday, October 01, 2005
Yesterday was a great day for me.Various thoughts crossed my mind when I noticed "Vetri" printed against mithuna raasi in the daily-sheet calendar,one page of which I tear everyday w/o fail.But that soon turned into reality.

The announcement that classes were suspended for the rest of the day came just after my lecturer completed his 2 hour lecture on Engineering Quality Control.The next thing I did was,head straight to the audi where the intra-college literary fest,Agni,was going on.I entered the audi only to find the compere announce the results of the general quiz and sports quiz.I then joined the gang of mechanical engineers which seemed to be having a conference.It was not a conference,but some 7 guys had joined hands to crack the 5*5 sudoku tht was handed over to everyone.

The announcement for the automotive quiz came and thanx to my rapport with them,two mech guys invited me to join them.My team had a perfect blend of skills with me the 2-wheeler expert,one F1 expert,Vikram, who knew little about 2ws and the third,the topper of mech dept,Suganth,who was well-versed with the underlying technology.The combination worked and we qualified for the finals.Some questions from the prelims,with answers:
*Connect Hindujas and Ashok Leyland---Hindujas own AL
*Youngest F1 champion--Alonso
*Expand SOHC--

single overhead camshaft


*CRDi--

Common Rail Direct Injection


*MPFi--

Multi point fuel injection


*AGV--

Automated guided vehicle


*Meaning of 800 in maruti 800--

cubic capacity of engine


*first person to start production lines--

Henry Ford


*Plant coming up at Maraimalai Nagar---

BMW assembly


There were many other technical questions like turbo lag,use of differential etc.which were deftly handled by Suganth.

The finals started 30 minutes late.There were four teams in all.The questions were segmented as Business,History,Visuals and Latest trends,in 4 rounds.My team was leading till the latest trends round after which the visuals flummoxed us.The logos seemed to be those of cars used in 1765B.C.This was where we screwed up.My only contribution in the final was the answer to "Which car do Abishek bachan and rani mukherjee endorse in Bunty aur Babli?"We,in the third team,waited patiently after which we coolly replied "maruti Swift".

After the quiz I headed straight to the ground to do the scoring for an inter-dept cricket match.By the time I reached home,I was totally exhausted.

I'm yet to receive the prize.I just hope it doesnt turn out to be a gift voucher to be redeemed in mahaveer optics or in pattikkaattaan mittai kadai.
**************************************************
The overwhelming response to my previous post encouraged me to write more mokkais.Here's one more.



The difference between perseverance and obstinacy is that the former is full of will and the latter,full of won't.
Property of Sheks @ 11:38 pm


About Me
Name: Sheks
Home: Madras, TamilNadu, India
About Me:
Complete profile
Previous Posts
Archives
Powered by