SHAKY 2006
Saturday, December 31, 2005
2005 began on a shaky note with the earth trembling five days before new year eve.2006 too had to witness a bitter beginning with the death of an IISc professor.A month of disasters,december is.

HAPPY NEW YEAR.Just rewind your memory 365 days back.You said the same thing for 2005.But was it a happy year.Think again.The tidal wave began the proceedings similar to what they call "trial ball" in gully cricket.Floods in various parts of the country,hurricanes,kashmir earthquake,delhi bomb blast,bangalore terrorist attack,bangalore call centre employee murder,.....want more??

This is in no way meant to spoil the NY mood.All I want to say is keep your eyes and ears open.Be optimistic.
------------------------------------------------
Now for resolutions.I havent taken any new resolutions.Only an extension of what I had taken during the course of 2005.I've been sticking to only one resolution for the past 1 year and that is 1024 * 768.I wish to do the following:

**CHANT

GAYATHRI

MADIRAM 216 TIMES(108+108) EVERYDAY.


**Get a 120GB hard-disk for my PC.
**Footboard-travel to college by bus.
**Go to besant nagar beach everyday.
**Eat 2 mentos' after each puff.
**Take part in cultural functions of other colleges.
**Watch "birds" everyday.
**Be a responsible citizen.

Let's hope nothing disastrous happens this year.
Property of Sheks @ 11:42 pm


MY VALENTINE
Thursday, December 29, 2005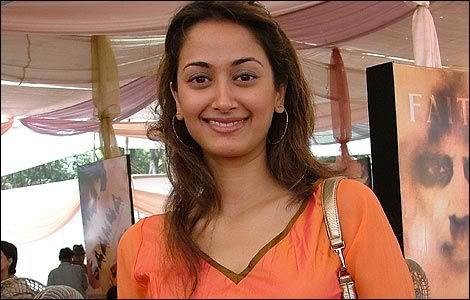 Curses and fun2fun,I know what you both are thinking.But ava illa iva.
Property of Sheks @ 11:20 pm


EXPANDING NETWORK
I've been enjoying myself in orkut ever since the amazing suderman sent me an invite.Thanks to all those "firsts" in my network,sudhish for adding me first,harish the first one to whom I sent an invite and vani,the first girl in my network.I'd been able to meet a lot of my old friends.The best of all,it helped discover the real name of a soon-to-be-famous writer who currently blogs under a pseudonym.Some communities like "mechanical engineering","IC engines","Operations research" etc look inviting while others like "anna university sucks","we hate viswanathan"and all those communities aimed against AU and its students show signs of impending doom for my network.

Still if you would like to add me,send me an invite to my mail.
Property of Sheks @ 9:52 am


TWENTY20
Tuesday, December 27, 2005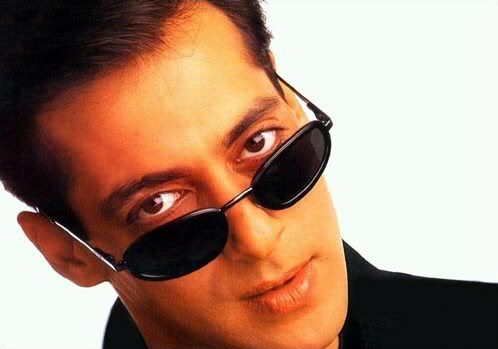 HAPPY BIRTHDAY TO SALMAN BHAI!

AND TO ME TOO. :-)

I'M OUT OF MY TEENS AND I SHOULD SAY,I'VE HAD AN AWESOME 7 YEARS OF TEENAGE,THOUGH I'LL BE MISSING MOST OF THE FUN N FROLIC.I'M NOW 20 WHICH MEANS IT'S TIME TO DANCE AS SUNG BY A.R.RAHMAN IN "KAADHALAN"--

"Irupathu vayathil aaDaamal,
Arupathil aaDi enna payan."
Property of Sheks @ 6:56 am


A YEAR AGO
Sunday, December 25, 2005
The last sunday of december would henceforth bring memories of the tidal wave that struck the south-asian coast last year.Even before it could be wiped off my mind,a year has gone by.Indonesia,Thailand,a small portion of Malaysia,Andaman & Nicobar,SriLanka,India and East Africa bore the brunt of the attack.Not a single coastal district in TN was spared.Tuticorin and Rameswaram however suffered little destruction because of that protective shield called SriLanka .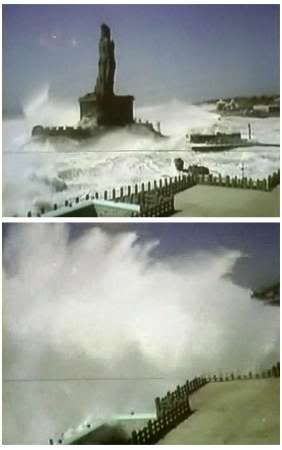 The wave at kanyakumari rock memorial.



I woke up quite "early" at 730 in the morning.Everything was normal for the next two hours when my sister told me that Madras experienced a tremor that morning.I could not believe it.I then switched to the news channels which by now were brimming with headlines that read "Sea water inundates parts of Chennai".Lok sabha winter session,L.K.Advani,Sankaracharya arrest episode, all went back stage as the focus began shifting towards Chennai.There was sea water inside the Police Commissioner's office and in Queen Marys college.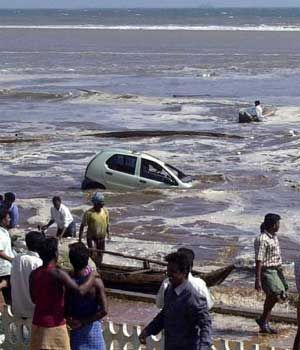 The world's second longest beach,now a lagoon.



By 11'o clock Indonesia,Cuddalore and Nagapattinam came into focus.An hour later,came Kanyakumari,and the damage,it seems,was so intense that it began to dominate news headlines.

It is at times of natural disasters like these when rumour-mongers have a field-day.Rumours like Tiruvanmiyur submerged,Sea water entered Ashok Leyland factory in Ennore,water reaches nagercoil etc began doing the rounds.As a true Indian,yours truly began his survey.At tiruvanmiyur water spills from a metro water tanker were mistaken for waves.At besant nagar traffic police were not allowing public to even catch a glimpse of Elliots.

A year later,the district collectors of cuddalore and nagapattinam are hailed for their prompt action in ensuring that the people of their districts stayed clear of such disasters.Vivek Oberoi adopts an affected village.Meanwhile the affected,who are yet to recover from the shock,foresee another tidal wave taking shape.Dismiss all such crap and come back again on my birthday.
Property of Sheks @ 1:31 pm


BOWLED OVER
Wednesday, December 21, 2005
He was shopping for shaving accessories in the department store,when a gleam of light struck his face suddenly.It was not a gleam but the face of the most beautiful girl he had ever seen.He just couldnt take his eyes off her.She was picking some biscuits while he stood watching her from the corner of his eye.The girl suddenly turned and looked at him.It took him a moment to drive away the butterflies that had entered his stomach.He then picked up the nearest object in the rack nearby.The girl smiled at him.He was bowled over by her smile.What a smile that was!But wait.Why was she smiling at him?For once he saw the object in his hand.He had picked a pack of Johnson's baby soap.Now he couldnt resist grinning at himself.He again looked up to find the girl leaving the store but not before letting out that pretty smile at him.

He now lies on his bed,his mind full of that smile.He cannot concentrate on his work right now.Will he ever see the angel again?
Property of Sheks @ 10:13 pm


UR OPINIONS
Sunday, December 18, 2005



My brain has been working in a rather peculiar manner(like always).I find some minute resemblance between the above two superstars.I haven't expressed this to anyone except curses who obviously did not agree with me.Now I want to know if there is any similarity between the two(except for the fact that they are no.1 in their respective fields)or if it is my brain which is functioning improperly.The answer to the latter question is already known so skip it and answer the first one only.
------------------------------------------------
"Sivaji" funda--Rajinikanth's character is called Sivaji in his next movie.But do u know that Sivaji Ganesan played a character called Rajinikanth?In the movie "Gouravam" SG plays the role of an advocate by the name "Justice Rajinikanth".
------------------------------------------------
The TamilNadu government is all set for a demolition drive to remove encroachments on the bed and banks of the Coovum and Adyar rivers.An engg. college near Koyambedu had to bear the brunt of the demolition as it was built right on the bed of coovum.But this was carried out by the Tiruvallur district administration as the place falls under Tiruvallur district.If the Chennai Corporation were to execute the same demolition,the two rivers would be not only clean but will also be a pleasant sight to watch.Some of the structures that are expected to go are Harrisons Hotel in chetpet,IGate in guindy and those high-rise apartments coming up near chettinad school.Will have to wait and watch the fun.
-----------------------------------------------

Opine on the "resemblance" in the comment box.
-----------------------------------------------
Once again karnataka has proved that it is a cut above the rest.While maharashtra,TN and WB chose to rename only their capitals,karnataka is set to rename most of its cities as this article from today's The Hindu shows:
They will be Belagavi, Mangalooru, Mysuru

Special Correspondent

Gulbarga will be Kalburgi, Hubli to be renamed Hubballi
---
Name changing criticised by some intellectuals who have called it an exercise in parochialism
Dharam Singh defends move to change names of cities
Proposal to change Bangalore's name came at a meeting with litterateurs and others
---
BANGALORE: Changes in the names of some more cities is in the offing. After deciding to rename the State capital Bangalore as Bengalooru, the Government has decided to change the names of Mysore, Mangalore, Gulbarga, Hubli and Belgaum.
Those cities will shed their anglicised names and assume Kannada names.
Announcing this at Gulbarga on Sunday, Chief Minister N. Dharam Singh said that Mysore will become Mysuru, Mangalore-Mangalooru, Hubli- Hubballi, Gulbarga-Kalburgi, and Belgaum-Belagavi.
As in the case of Bangalore, the new names will come into vogue from November 1, 2006, which marks the 50th year of the reorganisation of the State.
The Chief Minister said that the State Cabinet will consider the changes and forward them to the Centre for approval.
Mr. Dharam Singh defended the decision to change the name of Bangalore and noted that the proposal came at a meeting with litterateurs and others held in connection with the celebration of "Suvarna Karnataka."
The decision with regard to Bangalore has met with approval from intellectuals and others, he noted.
The name changing exercise has, however, met with opposition from some of the intellectuals (other than those connected with Kannada literature) and professionals who regard it as encouragement of parochialism.
Karnataka should not have followed in the footsteps of States where regionalism holds the key to political fortunes, is the view.
The radio services of the British Broadcasting Corporation (BBC) a few days ago interviewed people across the country on the decision with Bangalore's name.
However, it was found that by and large the change was welcomed and there were not many to accept the misgivings of the interviewer.
Property of Sheks @ 10:19 pm


THIS EMU CAN FLY
Thursday, December 15, 2005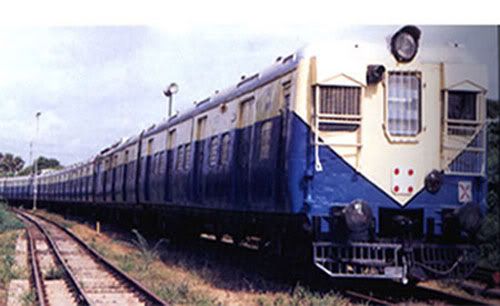 About 350kms from madras, lies a city that calls itself a
brand,worldclass,hitech,cosmopolitan and many other tags which the
people of that city have assigned to it.It has been vying with its
nearest major neighbour in all fields and has even emerged
triumphant in a few.However one area where it is no match for mds
is the public transport system of metro suburban trains.A metro train
project has been in the pipeline for more than a decade in the
branded-city but it is yet to see the light of the day and recently it
was seen floating in the sewer.

Metro trains have been running in mds since 1931,much after this
system was introduced in Bombay and after Raymonds and Nilgiris
came into being.Initially running on metre gauge tracks,conversion to
broad gauge was effected in 2003.The aesthetic design has also been
changed to move with the times.The interiors of these coaches are
furnished with steel and cushioned seating has been
incorporated.However since commuters who have been travelling for
more than a decade(when the branded city's metro rail appeared in
the pipeline)in these trains would be missing the brown coloured
coaches with yellow-painted interiors,the conventional model(second
pic)has been retained and it runs alongside the new model.

Much has been written about madras' buses but very few posts
actually describe the experience of an EMU(electrical multiple
unit)commuter.Bombay bloggers post a lot about their train-travel
experiences and this encouraged me to write about the metro train
system of the city I love very much.For the first time in the history of my
blog,I've used the FAQ format that is quite synonymous with Vinod
and Praveen.

Q--What's that brown thing over there with a 'M' in front of it?
A--That's the local train of this city.And M is short for Moore Market
complex that is better known as central.

Q--Where does this emu "fly"?
A--Flies in four sections namely beach to tambaram(and
beyond),central/beach to avadi(and beyond),central/beach to
gummidipoondi(and beyond) and beach to tiruvanmiyur.

Q--Bombay has names like Western,Central and harbour assigned to
its sections.Does mds have any such names?
A--Presently no.The section is identfied by the last station in it.

Q--Are these trains crowded like in bombay?
A--Yes but not for long.From 11pm to 4am these remain in the
shed.After these trains start their journey they are crowded for 6
hours in the morning,6 in the evening and 6,during the day after
which the crowd lessens.

Q--What do I do if these are crowded?
A--Catch the train in the starting station itself.

Q--Could you explain that?
A--If you want to go from Mambalam to Tambaram,first catch bus
route no. 10 or 11 and go to parrys.There,walk to Beach station and
board the first train to tambaram,that you see.That way you will be
saved the trouble of standing all through the journey.

Q--Is there any other option?
A--Well,you can sit on the roof or hang on the window.

Q--Isnt that dangerous?
A--yes it is.but you will get used to it like how bombaykars have.

Q--I dont have any previous experience,but.
A--No problem.It will come automatically to you after you watch
movies like Dharma,vallarasu,vaanchinaathan and gajendra.

Q--How do I get to the roof?
A--Jump from the road-overbridge.

Q--Won't I get hurt?
A--Not at all.There will be two other people to catch you for you to
land safely.

Q--But risk is risk.I prefer that small room at the end of the coach
which has only one passenger.I would anyway like to give him
company.
A--You moron,that's the driver's cabin.

Q--I heard that the new model got rejected in hyderabad.Why was it
so?
A--Because the people did not like the colour.They expected a pink
colour roof,green colour body and bright orange wheels.But what
they got was white roof,blue body and black wheels.They sent it back
to mds.

Q--What is that wooden thing above the windows?
A--That's the luggage rack that serves to keep trunk boxes,suitcases
and other heavy luggage like gundu kalyanam and usilaimani.

Q--Only luggage?
A--No.during peak hours when there is not an inch of space to even
stand,u can climb and sit on it.

Q--What are those things hanging from the top which those people
are holding?
A-- It's called support or clutch.You need to hold onto it to avoid
tripping.U can also hang your shoulder bag or tie your pet dog on
it.These clutches are not found in the new model and hence were
rejected in Hyderabad.

Q--But today's local newspaper said that the train stopped midway
when a person hanged his umbrella on it.
A--That was because it was not a clutch that he hung his umbrella
on,but the alarm chain.

Q--In overseas metro trains,the seats are designed in such a manner
that the passenger gets a feeling of the train moving sidewards.Can I
find that experience here?
A--Why not.Special coaches are designed for this purpose.You find
these special coaches right behind the "ladies" compartments.You will
have fruits,vegetables,peanuts and fish for company.These special
coaches have "VENDORS" written outside them on the body.

Q--Why are both buses and trains green in this city?
A--It is testimony to the fact that mds is a green city.During your
journey you are likely to come across people uttering "green" words.

Q--Lastly,do these trains ever run late?
A--Yes of course.Most of the time,these trains will be forced to wait
till the CM's or MLA's convoy passes,which subsequently causes
delays.

Thanks for the info.I'm off to watch the four movies you mentioned.

To sum up,these EMUs jointly with MTC form the life-line of mds.Not
many may agree with this fact.Only a frequent commuter can measure
the efficiency of these trains.According to me all the trains,barring
the gummidipoondi one,are really efficient in mds as they are,in
bombay.But there is light at the end of the tunnel since the g'poondi
line is being converted into a four-track line which will have
dedicated lines for express trains.And considering the pace at which
this is taking place,it is obvious that this line will be in place much
before bangalore becomes bengaluru,new delhi becomes nayi dilli
and hyderabad becomes hydera*****.
Who said mds is lagging behind the branded-city in terms of
development?In fact we are miles ahead when it comes to public
transport.Let's flaunt our electric trains while they search for their
metro in the sewer.
Property of Sheks @ 4:19 pm


FAUX PAS
Monday, December 12, 2005
a recent conversation between me and my dad.

Dad--so how's ur internship going?
Me---Not internship.industrial training.going well.
D----How did u go to the plant today?
M----Vandi
D----Vandi???
M---Yes
D---How far?
M---35kms.
D---How 35kms?
M---adyar to broadway,15kms.b'way to ennore,20.
D----at what time did u start?
M---630 am.reached at 815 am.
D----How was it possible for you to negotiate the battered road?
M---It was bumpy but what to do.being in chennai i've to get used to such things,na.
D----Is ur vehicle in good condition now?
M----Of course.Why are you suddenly asking?
D----It must have got worn out in some spare parts.If there's any problem call mechanic tirumalai.And see to it that the petrol tank is always full.
M---I cant understand what you are saying.My vehicle is in tip-top condition(like never before).Why are you telling me to service it again?
D---Long distance.Bumpy roads.I advise u better go by public transport.
M---of course I'm going by public transport.
D----But you said vandi(vehicle)in the first place.
M----Oh that!I meant bus route no. 1-D and not our two wheeler.

My dad had a hearty laugh after this which lasted 2 mins 23 seconds 89 microseconds.
Property of Sheks @ 11:19 pm


HAPPY BIRTHDAY THALAIVAA!
Ai jabaal lakkidi giri giri giri.........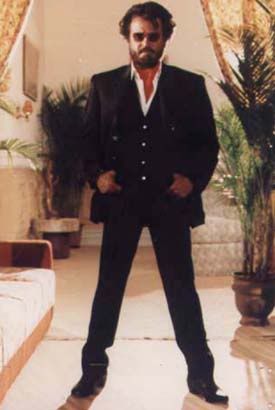 may u live long according to the american pazhamozhi(maxim), "jack and jill went up the hill to fetch a pail of water".

Property of Sheks @ 5:25 pm


MADRA(IN)S--2
Wednesday, December 07, 2005
This is my second post about the dec 4 chennai rains.For the first one,about the october 27 version,just scroll down till you see a title same as that of this post.

"Vangakadalil..........kuraindha.............kaatrazhutha...........taazhvu.........
nilai......uruvaagiyullathu.Idhanaal.........tamizhagathin ........kadalora maavattangal...........thootukudi,........pudukottai.......tanjavur............nagapattinam......cuddalore............vizhupuram.........tiruvallur........chennai...............matrum........kanchipurathil...........idiyudan koodiya mazhai........peyya........koodum."So says the head of the chennai weather station with umpteen pauses in between that before he could actually complete his statement you could travel to bangalore and forth.His statements are unique in that none of them have actually become true.A cyclone predicted beforehand turns into a depression,a foreseen heavy rain turns into hot weather by some magic or curse.The weather dept is poised to become the butt of jokes in future and it's now vying with sourav ganguly for a place in the elite 10.

The situation this time was no different.Subways resembled storage tanks,shops along narrow streets looked like aquariums and the worst--rivers overflowed their banks.Once again the southern fringes of the city, namely adyar and beyond,were the least affected.One guy was surprised to find a bucket floating on the floodwater that had entered the backyard of his house.

On dec 4 I was in no mood to go home after the training session at ennore foundries.I changed my mind onl after reaching central.I bought a ticket to tiruvallur and boarded the arakkonam-bound electric train.Again a change of mind and I got down at avadi itself.Headed straight to the bus stand and I was undecided on where to go when I noticed a glittering piece of metal come into the terminus.It was a brand new bus on route no 70.I decided to go on a trip to tambaram.Coming back to the rains!As the bus rambled along,I caught sigh of the Arapath lake that runs extends from ambattur to avadi for about 6 kms.This lake,I read in Tamizh murasu,had inundated adjoining ambattur and tirumullaivoyal(between amb and avd).

There was no flooding from ambattur estate to west anna nagar.After that between koyambedu and vadapalani,traffic police were seen using public address system to announce motorists of waist deep water,caused due to breach of a causeway(a low bridge)near MMDA.Only heavy vehicles were permitted and two wheelers and cars were told to turn back.True as it turned out to be,there was not waist but face-deep water.Excess water from the adyar river and the nerkundram lake had jointly flooded the stretch of Inner ring Road from koyambedu to vadapalani.

After that the bus got stranded in the K.K Nagar junction near ashok pillar."Another roadroko against relief distribution",I thought.The bus moved inch by inch and after 15 minutes,reached the adyar river bridge at ekkaduthangal.I was horrifed to see the adyar river in spate.The water level was so high that you could touch it from above the bridge.Adjoining colonies in jafferkhanpet were marooned ad while the residents were having a tough time movig out of the place,some picnickers were watching the river flow,like pattikkaattaan mittaai kada.

Not much activity thereafter upto tambaram.I boarded the beach-bound train to go to saidapet.The train was moving slowly after guindy.Very unusual this was and the obvious reason was the river in spate.It took a whopping 10 minutes to reach saidapet.Once I was out of the station onto mount road,it was a similar scene on the bridge at saidapet.For the first time ever I caught sight of a news correspondent.It was the NDTV reporter with a camera before him.On seeing a 21G bus going via adyar it became very apparent that kotturpuram was cut off.At night I checked out the adyar bridge near Malar Hospitals only to find a similar scene.For once Cooum,at the other end of the city, wasnt stinking.

Velachery--This place opened itself to real estate after IT firms started coming up on OMR,particularly Tidel.It was poised to become an extremely posh locality next only to nungambakkam and besantnagar.Little did the people,who purchased houses there,realise that their apartments stand on a lake bed.The velachery lake is completely out of sight now.Only the marsh remains.As a result these apartments,or rather encroachments got the treatment they deserved.Same is the case of the madipakkam and medavakkam lakes.These two had joined themselves and after having their fill,passed on the "excess" to the velachery lake.

The best thing about chennai's suburbs is that there are a good number of lakes which act as natural floodwater carriers.Name any place in the two neighbouring districts(kanchi and tiruvallur) and it will have a lake.There are lakes in korattur,kolathur,pattabiram,urapakkam,maraimalai nagar,pammal,porur and chengalpet whose banks and beds have given way to construction activity.Problem of real-estate.The moral--think twice before you buy apartments in the suburbs of any city,be it chennai or mumbai.

Some lighter vein.If this doesnt infuse even a smile in your faces,sue me(not applicable to natural gigglers). Vinu Chakkravathi takes over as head of the Met Dept.Predicts heavy rain.The TV journo asks "Sir,idhuvaraikkum sonnathu nadanthathey illa.Neenga unmaiya thaan solreengala?"


VC--Adi seruppaala naaye!Ennudiya irupathanju varusha service-la enna yaarum ippadi kelvi kettathilla.Nee kettuttae.Ippovae unna panchayat-la kootikittu poyi enna panraen paaru.




J--Sir sir sir,yaen sir kochukareenga.




VC--Pinna.Alaipayuthey padam paathu velila poyi alai paayum-nu sonnaen.Paanjuthu illa alai,dec 26 annikki.Naan sonna adhu nadakkum,lae.Adhaan-lae varghese-u.




J--Appo mazha varum-nu solreenga?




VC--Adichu solraen.Naalikki madras-la puyal-oda mazha varum.Idhu enga ooru panchayattu mela sathiyam,sathiyam,santham,subham,devi paradise-u.


*********************
The infrastucture has taken a beating after the rains but it will soon be normal as long as jayalalitha is there.Meanwhile check out THE PRIDE OF BANGALORE.
Property of Sheks @ 10:14 pm


ALL IN A NAME
Saturday, December 03, 2005
I did a mini research about my name.I was christened Chandrasekhar at birth but that unofficially became Sekhar.It may take ages before I revert to my former name but this present name is like a "laghukatha"(short story)which I learnt in 10th std hindi.The story may be short but there's a great deal of info hidden in it.My name's no exception.

Most people add their birthplaces to their names or append it later as in "guduvancheri govindasamy","tambaram thaandavarayan","dumeelkuppan vavvaal"etc.My name has a place's name embedded in it.se

KHAR.

Khar is a suburban town near mumbai(analogous to tambaram for chennai).But I'm not from mumbai.

Though I've made that last statement,evidences of being a mumbai guy come to light when u pronounce my name as it falls on the lines of tendulkar,agarkar,manjrekar,gavaskar,kanitkar etc.

The first part of my former name suggests I must be from the moon.Neither am i from the moon nor do I possess a face as bright as the moon.

I share my name with many famous chaps like shekhar suman,s.v.shekhar,shekhar gupta(editor of indian express)and probably the best,Dileep Shekhar(who's better known as A.r.Rahman).

****************************
24 more days to go for that fateful day two days before which Christ was born and one day before which the sea met land.The next day---guess what happened??
Property of Sheks @ 7:23 pm


About Me
Name: Sheks
Home: Madras, TamilNadu, India
About Me:
Complete profile
Previous Posts
Archives
Powered by