BIRTHDAY--SO WHAT?
Monday, January 30, 2006
I've completed a year in the world of blogging.Actually I registered for a blog account on jan17 last year but put up my first post on this day,last year.But there's nothing worth calling an achievement as I still have a long way to go.It's like a journey from chennai to kanyakumari and I've reached only chengalpet.

Thank you all for putting up with my monotonous,insipid posts.But it doesnt end there.Keep coming back for more.Some post may enlighten you one day.
Property of Sheks @ 5:40 pm


DAY 2 AT SAARANG'06
Friday, January 27, 2006
Encounters with the opposite sex.This could be the phrase to describe yesterday's experience.I'll come to this in a later part of the post.

There were no quizzes scheduled for yesterday and the only contest that seemed appealing was Crossie,scheduled for 3 pm.A couple of friends had agreed to join me sometime before 3 but there was no sign of them even after 330 and so I missed the contest in the process and set about searching for the two guys in the crowds.I was so intent on meeting them because they had agreed to get me a ticket to the light-music show scheduled for that night.I committed the greatest possibe blunder in not getting a ticket a week before the show and now I was so desperate to get one at the eleventh hour.I kept circling the section outside the Science block with an expression that would well qualify for the title of "tiruvizhaa-la kaaNaama pona pulla".The absence of a mobile phone only added to the woes.

At around 530,people began lining up outside the arena,where the show was to be staged.Another friend had joined me by then and we both went around trying to catch any IIT student,expecting to get a ticket or two from him.The ultimate did happen and I considered myself lucky enough to spot the guy at the help-desk meddling with what seemed like a ticket bundle.I immediately got myself a ticket and joined the queue where I met suderman.

Now for the best(or rather,worst)part.The aesthetically dressed girls were no longer a feast for the eyes,that evening.And if you find a seat in some damned corner of the gallery near the entrance,you gotta get up from your place umpteen times and after sometime you will notice that your pant has a big hole at the back.

I had to make way for people who were going up the gallery in which process some girls treaded on my poor hand.Thank god there were no high-heels!It would have been even worse if their footwear had traces of bullshit.Yuck!

I had suddenly become wild that day.I couldnt control myself seeing all those around me dance.And it was only during those complex dance movements that some girl yells "Excuse me please" and I'd be forced to make way for her.

And there was this girl who left her place during shankar's "breathless" song only to return later with a glass of cooldrink,when "It's the time to disco" was on.And a guy standing behind me did a step with his leg that some cooldrink spilt on the girl and some on my shirt.I could do nothing except stand and watch the two arguing over whose fault it was.

By 930 I was sweating like anything.It was then,that I shook my hair vigorously that some sweat fell on a girl who was trying to make her way out.She passed me with a nasty look on her face,wiping the water off her arm.To top it all she was wearing a sleeveless top.I didnt know what happened in the next 10 minutes when suddenly I caught sight of her looking at me from the other side of the entrance,pointing her third finger at me.

Finally there was this poor girl who had just enough time to prevent her short-top from slipping,that she could not dance.

It was all over at 10pm.I expected to go home with curses,like how I did last year.But I could not spot him in the crowd as I was lost in thought about the bottle he gave me before the show.Is there any mystery in it??
Property of Sheks @ 8:02 pm


DAY 1 AT SAARANG'06
Wednesday, January 25, 2006
South India's most awaited cultural fest has begun and is going great guns.I wanted to take part in something intellectual this time.Last year I confined myself to the informal events only.

After a gruelling one hour test on "Principles of Management",I headed straight to the ECE department where six guys were waiting for me.Off we went to the opposite campus.I teamed up with an expert for the biz quiz only to end up getting 6 out of 25 questions right.Then came the India quiz in which I could manage only a nought.Spent the rest of the day cracking the daily crossword and quiz and bird-watching.I couldnt get tickets for the choreography show at night and so i'm presently vetti @ home,blogging.

That one moment.It was like a dream-come-true.The angel(not the girl I saw in the supermarket), whom I'd been waiting to get a better glimpse of,appeared from what seemed like thin air.Had a good look at her face,staring for so long that her face is literally recorded in my memory.

Awaiting day-2,amidst pending project reports,seminars and preparation for internal exams.



(To be continued)
Property of Sheks @ 10:13 pm


MUDDY,MUDDIER,MUDDIEST
Monday, January 23, 2006
It started becoming muddy in 2004.It was becoming muddier all these days and now it's the muddiest.The 'it' in question here is the political crisis in karnataka.A section of the JD(S)led by Deve Gowda's son H.D.Kumaraswamy,sidelined itself from the congress and has allied with the BJP.Meanwhile the congress has been asked to prove its majority by jan 27.In order not to disturb the congress in the process of proving its majority,the BJP and JD(S)leaders are holidaying,the former in Chennai and the latter in Goa.

Karnataka's political fiasco has been doing the rounds in all news magazines right from 2004 when Dharam singh became CM.So much detail has been covered that an other-state guy like me can write a book on it.It remains to be seen whether Singh stays or gets overthrown.Whichever of the two happens,the result is the same---the branded city gets more affected.
--------------------------------------------
Update:Deve Gowda has backtracked yet again on expected lines.He told The Hindu that the incident of his son aligning with the BJP was a betrayal.Yesterday he was seen supporting his son's stand,speaking ill of the congress.The previous instance when gowda backtracked was before the BangaloreIT.in fair when he questioned the services of the infotech industry.Later he was seen telling the press,during Bill gates's visit to bangalore,that the government was ready to do anything for the industry.Please make up your mind,Mr.gowda!
Property of Sheks @ 5:02 pm


FINALLY A TAG!
Wednesday, January 18, 2006
I've been tagged for the first time in the history of my blog,by paurnakrishnan.There are certain rules to be followed:
1) The one who's tagged has to specify 8 different points about his/her lover.
2) The gender of the lover has to be mentioned.
3) Tag 8 more people.
4) If tagged once again,reject it.

So here goes:

Gender--Female

1. Must be younger to me or of my age
2. Must be good at heart
3. Must be outgoing
4. Must be an outright chatterbox(must speak 1049 words to the dozen)
5. Must be a party animal
6. Must not take things seriously
7. Must not object if I be friends with other girls
8. Must have an excellent sense of humour.

And this tag goes to ---Curses,suderman,ferrari,praveen,dryad,vani,neha and chikuado.
Property of Sheks @ 9:06 pm


Public transport for madras
Tuesday, January 17, 2006



Monorail



Madras is all set to get a new form of public transport in what they call "monorail".The decision was taken three days ago by the state government.

Earlier the DMRC(Delhi Metro Rail Corporation)was called upon to conduct a feasibility study on the implementation of a rapid transit system for Madras city,after it successfully implemented the project in Delhi.The study was conducted and three corridors(main roads)were identified.These are Tiruvotriyur to Airport along mount road,Tiruvotriyur to Poonamallee along Poonamallee high road and Tiruvanmiyur to Amabattur Estate via Saidapet,T.nagar and Anna nagar.The agency started the preliminary work of soil testing on the first two sectors.The system was to have underground tube tracks at some parts and elevated lines for most part of the route.The system was expected to complement the existing suburban rail system.



The following are some of the corridors selected by the MTCL: Parrys-Guduvancherry; Parrys-Poonamallee; Parrys-Porur; Parrys-Avadi; Parrys-Red Hills; Parrys-Parrys (via Mylapore, Raja Annamalaipuram, Guindy, Ekkattuthangal, Vadapalani, Anna Nagar, Chintamani, Kilpauk, Kellys, Elephant Gate, Stanley Medical College); Parrys-Manali new town, Halda-Medavakkam; Anna Statue-Adyar, Virugambakkam-Santhome; Egmore-Madras Fertiliser Junction; Saidapet-Anna Nagar Roundtana; Ayanavaram-Ambattur Estate; Aminjikarai-Ambattur Estate; Parrys-Kelambakkam; Gandhi Statue, Villiwakkam-Nathamuni Theatre; and Foreshore Estate-Nungabakkam.



This appeared in yesterday's edition of The Hindu.(Read the full report here).The Metropolitan Transport Corporation which is the most "efficient" transport agency in the world for its "flawless" buses will be executing this monorail project.

I personally feel that the metrorail project is a much better option but I wouldnt complain if the monorail succeeds in reducing congestion on roads,as it is expected to.This is a must for a steadily-growing metropolitan city but another option would be to streamline the existing bus and train services.With fast-paced development going on in chennai's satellite towns,more electric trains, with a frequency of 10 to 15 minutes, are needed for places like chengalpet and kanchipuram.

Yet another feather in Chennai's cap!
Property of Sheks @ 6:27 pm


FOOD FOR THOUGHT
Saturday, January 14, 2006
My pongal ceebrations were slightly different this year.For the first time I attended the 36th anniversary of the very famous political magazine "Thuglaq" held at Narada Gana Sabha.I had the opportunity to watch the greatest political critic,Cho Ramaswamy,in action.The show was to start at 1030 am but the hall was packed from 830 itself.I couldnt find a seat and so I sat in the aisle.

It was an anniversary function with a difference.No famous people as chief guests.Cho Ramaswamy arrived at 10:30,with hands folded and after a simple address of "Ellorukkum vanakkam" he started the proceedings.Also the anniversary had nothing to do with Thuglaq's achievements,sales records etc.Rather it was a forum for readers to interact with the critic on current issues.Other VIPs present for the discussion were Bosskey and Ferrari.

Issues like forthcoming elections,UPA government's achievements etc were discussed.Excerpts:

**The BJP is yet to come to terms with defeat and this is reflected in the way it is boycotting parliamentary sessions.

**Prevention of terrorism has been an issue that is constantly being revoked govt after govt.A terrorist is a merciless killer and he should not be spared.The repeal of the POTA should not have happened.

**A reader put forth a question of why most terrorists are muslims.To which cho responded by saying that naxalites are not muslims,LTTE militants are not muslims and that it is wrong to blame just one section of the society.

**About the achievements of Vajpayee and Manmohan Singh,cho said that the former was far better than the latter.The reason,he said,was that ABV was free from coalition pressures while MMS had to cope with pressure from the communists and gopalapuram.He quoted an example of how Indian successfully developed the nuclear missile during ABV's regime.If MMS were to initiate such a missile programme he would have to consult first sonia,then sitaram yechury,next karunanithi,then laloo yadav(who would consent it if MMS agrees to drop the missile on Ram vilas paswan's head),and then a few more.The whole process takes more than a year until finally newspapers would read "Nuclear missile programme dropped."

**The issue of whether Rajinikanth would foray into politics keeps cropping up in every anniversary function of thuglaq.And this time it was no exception.

**The topic shifted from poltitics to sports.Cho strongly criticised the behaviour of Indian cricketers on the field.He quoted an example of how Yuvraj singh would turn epileptic on scoring a 50.He lauded the gentlemanly attitude of the West Indian cricket team with an instance of Lara who would only acknowledge the crowd with his bat if he scored even a 200.

**One reader put forth a question on whether actor Vijay would join the DMK.Cho asserted that joining the DMK would only ruin one's career.

The audience had a good dose of Cho's funny takes on Karunanithi,yet again.He stated that karunanithi's(let's call him MK)focus is only to promote Stalin the assembly elections and Dayanithi maran in the lok sabha.On the arrest of MK in 2001,what once was "Izhuthu sendraar" mushroomed into "Adithu izhuthu sendraar","Muttikku mutti thattinaar" etc.MK opposed the desalination plant on grounds that it degrades the environment without realising that he too's destroying the environs in the name of Sethusamudram.In short,any accolade to ADMK or jayalalitha is not tolerated by MK.

Cho also spoke in length about jayalalitha's good work.About the scrapping of the entrance exams he said that it was a good move and that the country is in need of plenty of graduates which means the filtering system of entrance exam is not needed.Sankara Mutt also made a brief appearance in the discussion.To this cho replied that the cases filed against Acharya were baseless.The discussion ended with cho's tribute to actor R.S.Manohar,a statement that Ganguly needs to be in the team and finally the national anthem.

Met ferrari at the exit but didnt have time to stop by and talk to him.
*************************************
Came across this in a friend's blog.Bangalore or chennai,think twice before giving lifts.
Property of Sheks @ 3:02 pm


CAN'T STAND THEM
Sunday, January 08, 2006
Will these lyricists ever learn?Who are they to set standards for college students?I'm waiting to lay my hands on the humpty-dumpty who wrote this piece in "Saravanaa"



Sara to the vaa to the naa,saravanaa,




My name is,saravanaa,




Yeah yeah,I'm the best




.




.




.




Kaadhal keedhal panni paaru daa,




Nee panna vitta college-ukke ketta paeru daa,




Kaadhal exam onnu ezhuthinaakkaa paas aaganum,




Adhula pass-a thaan thavaravitta nee devadas aaganum."



Kaligaalam!
Property of Sheks @ 6:59 pm


BLAND
Thursday, January 05, 2006
This is one simple word to describe the quality of my posts so far(courtesy:my collegemate).

But this term can also be used to rate the music of "Aadhi" and "Saravanaa".Aadhi disappoints and Saravanaa sucks.Aadhi's music by vidyasagar is way different from Tirumalai,Gilli and Madurey.The sad part is there is no intro song by shankar mahadevan or tippu.

Saravanaa.Srikanth deva fails to carve a niche for himself yet again.His music can be best described as a replica of his father's music.But the intro song will have you in splits with the lyrics
"Sara to the va to the naa,SARAVANAA".





Property of Sheks @ 6:47 pm


NOTIFICATION
Wednesday, January 04, 2006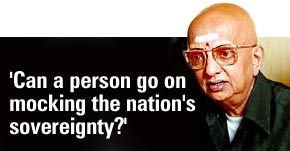 cho raamaswamy



The 36th anniversary of the famous weekly magazine

THUGLAQ

is scheduled on

jan 14

2006.The function will start at

10:30 am

at

Narada Gana Sabha

at TTK road,alwarpet.Do come and catch the greatest satirist speak on current issues,performance of the goverment,forthcoming elections and lots more.

For directions to the venue,bus routes,etc,contact me.Call me @ 044-43018527.
Property of Sheks @ 4:53 pm


HECTIC
Tuesday, January 03, 2006
Eight subjects comprising of 6 theory and 2 practical papers,one of which is an on-site fieldwork.Novels untouched since purchase.Weekly magazines.Preparation for CAT and campus placements.Paper presentations that are yet to see the light of the day.Fortnightly QFI meetings.Bird-watching.Blogging and blog-trotting.A good sleep.

So much to do but only 24 hours in a day.Life is hectic.
Property of Sheks @ 9:02 pm


About Me
Name: Sheks
Home: Madras, TamilNadu, India
About Me:
Complete profile
Previous Posts
Archives
Powered by